Yiwu Cheapest Fares
To search and book flights to Yiwu in 2020 and 2021, please enter your requirements and click the search button above.
Film Studio brings tourists to Yiwu area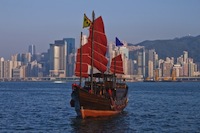 Yiwu is a city near the East coast of China in the Zhejiang Province. Known primarily as a trade city, Yiwu has still become well known as a tourist destination, partly due to the close proximity of many popular attractions. One must-see place is Hengdian World Studios, which has recently gained attention as the largest film studio in the world.
Based by the village of Hengdian, near Yiwu, the building of Hengdian Studios was an epic undertaking where acres of farmland were converted into huge scale film sets, with replicas of iconic buildings and areas. Often known as 'Chinawood', the recent worldwide popularity of Asian cinema has brought many international visitors to the area, boosting tourism as well as the rise in employment provided by the studio itself.
Successful films such as Hero, The Forbidden Kingdom and The Opium War have all filmed at Hengdian while the studio also holds such impressive records as the largest indoor Buddha figure in China and largest scale indoor studio.
The studios are home to 8 themed areas, boasting attractions such as Emperor Qin Palace, the Rocky Grottos, Dazhi Temple and the Palace of Ming and Qing Dynasties. Dream Valley provides a theme park where visitors can witness amazing shows such as floods, earthquakes and an exploding volcano, as well as offering many thrilling rides.
While Yiwu itself is a popular destination to visit, it is well worth a trip to see this interesting and fast-growing film studio, with breathtaking sets and replications, visiting Hengdian World Studios is sure to be a worthwhile experience.