Chinese cities marching to a beat of ancient civilisation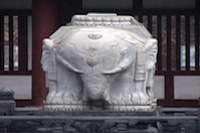 For over 3,000 years, Xian has been changing history, an ancient capital of civilization to rank with Rome, Athens, and Cairo. Surrounded by hills and water in China's richly historic interior, this destination and its satellite city of Xianyang are treasure troves of relics and reminders of the past.
Both destinations welcome visitors with open arms, eager to display the wealth of history and knowledge of the region. The first port of call is likely to be the stunning Terra Cotta Warriors and Horses, often referred to as the Terracotta Army, thousands of statues of various sizes created, depicting the armies of the first Emperor of China.
The historical treasures in the area are never ending. Pagodas, tombs, and temples can be seen alongside ancient city walls, and the natural environment boasts a stunning backdrop of mountains, with lakes and rivers to explore on tours.
Festivals are a natural part of Chinese life, and both Xian and Xianyang have cultural and other entertainments throughout the year. September sees the Xian Art Festival of Ancient Culture, filled with Chinese folk music, drum dancing, and a lantern show on the city walls. Xianyang has many festivals too, the most prominent of which is the Laba, or End-of-Year Festival. In the depth of winter, the festival revolves around food with many specialities to be enjoyed.
Accommodation in both cities suits every pocket, from five star hotels to youth hostels. Nightlife is lively and the range of food will tempt the most jaded palate.