Nanjing Cheapest Fares
To search and book flights to Nanjing in 2020 and 2021, please enter your requirements and click the search button above.
A University City of Wonders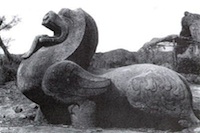 Nanking, also known as Nanjing, is set on the banks of the Yangtze River in China, some three or so hours by train, to the west of Shanghai. It used to be the capital of the country before being replaced by Beijing and is well known as a university city.
Visitors who appreciate history will find much to enjoy in this destination, including many traditional tombs, monuments and ornamental gates. Perhaps the most stunning piece of history is the huge Great Wall of China, which was built during the 14th century Ming Dynasty. Also well worth a visit is the famous Purple Mountain and tomb of Sun Yat-Sen, who is recognised as being the founding father of Republican China.
Nanking has had a troubled history, as exemplified by the Nanking Massacre, which occurred during the occupation of the city by Japanese soldiers in 1937. The Nanking Massacre Memorial is a sobering and powerful symbol of remembrance.
As it is a university city there is a lively cultural and social life, with plenty of opportunities to try all sorts of different tasty traditional Chinese dishes.
For lovers of festivals, the destination has many to offer, including the Plum and Cherry Blossoms Festival in early spring; the Rain Flower Stone Art Festival each September; the Lantern Festival, which takes place over the 15 days following the Chinese New Year and the Fuzi Miao Culture Festival, in late April. Perhaps most spectacular are the Dragon Boat Races, usually held on Lake Mochou Park, in the heart of the city, every June.