Wenzhou Cheapest Fares
To search and book flights to Wenzhou in 2022 and 2023, please enter your requirements and click the search button above.
Wenzhou enjoys Dragon Boat Festival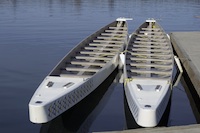 The Dragon Boat Festival is held in the city of Wenzhou every year, and is the perfect opportunity to discover this fascinating aspect of Chinese culture. The event takes place during the early part of June on the city's Wen-Rui river, and is a dazzling spectacle of colour and fun.
The festival is held in honour of Qu Yuan, a famous ancient Chinese poet, and it mainly takes place along the rivers of the city. A number of brightly coloured and decorated dragon boats are rowed down the water, and there are a series of exciting races. The celebration also features an assortment of musical and traditional performances, often taking place on boats or on stages dotted along the riverbank.
Attending the Dragon Boat Festival is a great way to learn about Wenzhou's heritage and culture, as it is a celebration that has taken place for centuries and involves many traditional activities. Visitors are able to enjoy local food, music and entertainment whilst taking in the wonderful scene of the brightly decorated boats racing down the river; this festival is an unforgettable view into a traditional Chinese way of celebration.
Getting to the festival is straightforward, as the city has good transport links to the rest of China. There are regular flights from the local airport to Beijing, Shanghai, Hong Kong and many other cities besides, so tourists are easily able to pay a hassle-free visit to this area whilst visiting China.