Shenzhen Cheapest Fares
To search and book flights to Shenzhen in 2020 and 2021, please enter your requirements and click the search button above.
Spring Festival is a major event in Shenzhen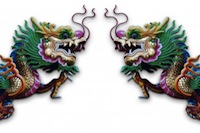 The city of Shenzhen in the South of China is one of the fastest growing cities in the world, largely due to its status as a major financial centre in Southern China. The city is popular as more than just a bustling business hub though especially as Shenzhen International Airport offers flights at a lower cost than many more traditional tourist destinations in China. One of the best times to visit the city is during the Spring Festival, held at the beginning of each year.
The celebration of Chinese New Year, known in China as Spring Festival, begins on the 1st day of the first month in the traditional Chinese calendar. The celebrations end on the 15th day with the Lantern Festival, a day that is also regarded as the Chinese version of St Valentine's Day. A great many events and performances take place in Shenzhen throughout the Spring Festival, celebrating traditional Chinese culture. Food and drink festivals, art shows, dance exhibitions, and street parties all take place during the festival.
Those wishing to travel to Shenzhen for the festival should be aware that this is a busy time for transport links. With many former Shenzhen residents travelling back to the city to spend time with family and friends, travelling around the beginning or end of the celebrations is likely to be hectic.
Visiting Shenzhen during Spring Festival is sure to highlight the culture and beauty of this popular destination. Houses and streets are decorated with often intricate and elaborate designs, Street parties and fireworks are common throughout the festival