Nanning Cheapest Fares
To search and book flights to Nanning in 2020 and 2021, please enter your requirements and click the search button above.
Firecracker Dragon Festival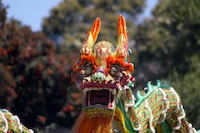 The famous Firecracker Dragon Festival in Nanning, China, is held on the eleventh day of the first month of the Chinese New Year, and has a history dating back hundreds of years. It is a massive festival that is gaining more and more attention every year, already attracting over 500,000 local people and tourists annually.
Celebrated by both the Zhuang and the Han people of the County, the spectacular festival is a local original event. The festivities include Chinese dragon dances, parades, floats, a lantern fair, a performance on a moving stage, and several fabulous firework displays. Another major activity of the festival is when local residents work together to construct a firecracker dragon that measures from 30 metres to 40 metres long. A dancer with a bare back and a red ribbon leads the dragon by igniting firecrackers, concluding with every family welcoming the dragon. The diversity of the festival is displayed in its folk art, ethnic culture, craftsmanship, and local customs.
The Firecracker Dragon Festival has a long history with origins tracing back as far as the Song Dynasty (960 - 1279). The original festival continued to be shaped and developed during the Ming Dynasty (1368 - 1644). It did not come to perfection, however, until the end of the Qing Dynasty, and continued to grow and develop throughout subsequent centuries. This legacy has resulted in the culturally rich and deeply historic festival that is seen today.