Xiamen Cheapest Fares
To search and book flights to Xiamen in 2020 and 2021, please enter your requirements and click the search button above.
International Animation Festival puts Xiamen on the map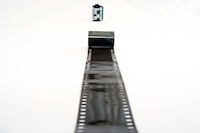 An international film festival is now helping quiet Xiamen to draw in a younger, edgier crowd. The 2011 Xiamen's Cyber-Sousa International Animation Festival is once again expected to draw large crowds of aspirant filmmakers and animators from around the world when it takes place in November.
Now in its fourth year, the festival is fast becoming a key event in the film, gaming, and web animation industry calendars and has helped to bring a fresh, youthful edge to what is otherwise a fairly quiet coastal Chinese destination.
As China's film industry continues to boom, thanks to government investment and an expanding economy that is bucking international trends, the demand for home-grown animated films that can compete with the likes of Japan and Taiwan is growing.
Events such as this one aim to stimulate creativity and encourage technical innovation amongst local filmmakers by giving China's up-and-coming animators a chance to pit their work against those from other parts of the world. Already it is capturing the attention of entrants from as far afield as Canada. From a tourism perspective, the festival is also helping to transform an otherwise cosy port city into an exciting world-class venue that appeals to young people.
Xiamen also offers a number of other cultural festivals throughout the year, including a Lantern Festival in February-March and the well-known International Dragon Boat Festival, held in June, during which rice offerings are made to the ancient water gods. Xiamen is also the scene of an international marathon that takes place every March and attracts around 12,000 athletes from around the globe, including Olympic contestants.