Warsaw Cheapest Fares
The lowest fare found to Warsaw (WAW) was £135 with Lot Polish. The fares shown here are the lowest flight prices to Warsaw obtained in actual searches by Just The Flight customers. To search and book flights to Warsaw in 2022 and 2023, please enter your requirements and click the search button above.
Early Summer Celebrations in Warsaw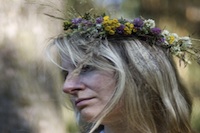 Visiting Warsaw during Noc Swietojanska is a great opportunity to join in a traditional Polish festival and immerse yourself fully in the culture of the region. The event is held every year in mid June to celebrate the summer solstice, and involves a massive celebration in the streets of the city. Hundreds of thousands of people come to join in the festivities, and the atmosphere is incredible.
Music and dancing are a big part of the festival, and many free concerts can be found along the city streets. Famous bands and artists can often be found performing, so this is a great opportunity to take in some top class entertainment. There is also a Midsummer Market, where delicious food and hot drinks are on offer. The pagan origins of the festival are celebrated by young girls wearing wreathes of flowers in their hair, and a highlight of the proceedings is a giant ring of flowers being pushed down the river. The party is topped off by a dramatic fireworks display that lights up the sky over the whole city centre.
June is also a great time to explore everything else that is on offer to tourists in Warsaw. The city has a number of important historical sites that are well worth a visit including the Royal Castle, the Citadel and the Nozyk Synagogue. The city also has a number of beautiful parks and gardens.
There are direct flights to the area from the United Kingdom, the Netherlands, France, Germany and several other European locations. This makes it easy for almost anyone to come and enjoy Noc Swietojanska and everything else that the area has to offer.