Cheap Flights to Gdansk (GDN) from UK Airports
Book flights to Gdansk
Gdansk Cheapest Fares
The lowest fare found to Gdansk (GDN) was £141 with Lufthansa. The fares shown here are the lowest flight prices to Gdansk obtained in actual searches by Just The Flight customers. To search and book flights to Gdansk in 2022 and 2023, please enter your requirements and click the search button above.
Gdansk's Musical Summer Brings the City Alive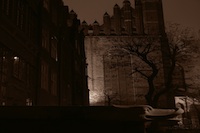 Gdansk, located on the scenic Baltic Coast of northern Poland, has become a major tourist destination, especially for travellers who are musically-minded. Gdansk is known for hosting spectacular open air concerts and the annual Musical Summer festival every July and August. The many classical music concerts during Musical Summer feature performances by internationally famous soloists. The concerts take place in the historic buildings of old Gdansk and also in the beautiful open air amphitheatre located on the banks of the Motlawa River. Gdansk's Musical Summer is part of a long-standing tradition that stretches back to the thirteenth century, when Pope Alexander the Fourth granted local monks the right to start a musical fair for Gdansk. Today, Musical Summer brings musicians and music lovers from around the world to Gdansk. Musical Summer features performances of Polish traditional orchestral music as well as music from composers throughout Europe. One of the most notable concerts is often held in the Dwor Artusa, a traditional building made to celebrate the legend of King Arthur.
Gdansk is a destination with growing popularity that has a good transport infrastructure, and direct flights are available to and from many international destinations. Don't miss out on the full calendar of events that Gdansk has to offer, and make sure that you book your hotel well in advance. Whilst Gdansk is well-equipped, Musical Summer is an extremely popular tourist event. The city is located south of Gdanski Bay on the Baltic Sea and is closely linked to the town of Gdinya and the spa destination of Sopot.
Cheap Flights
The best prices our customer have found to Gdansk in the last 7 days
Lufthansa
Gdansk
£141

KLM
Gdansk
£145

SAS
Gdansk
£201

Air France
Gdansk
£208

Lot Polish
Gdansk
£307