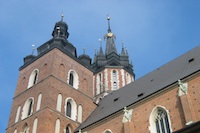 Book cheap flights to Poland by selecting an airport destination in Poland below. Compare flights to Poland from over a hundred airlines worldwide and book online with us today.
Sitting on the Baltic Sea and stretching to the Carpathian mountains, Poland offers visitors a diverse landscape with plenty to see and do. The Eastern European country shares its border with seven other countries including Russia, Germany, the Czech Republic and Ukraine.
Poland has a number of international airports, the most significant being John Paul II International Airport which is 11km outside of Kraków, in the village of Balice, and Warsaw Chopin Airport in the capital. Poland's cities offer a fantastic mix of historical sites, a multitude of architecture and a vibrant, busy nightlife. The Old Town and Wawel Hill in Krakow offer some architectural treasures while the Warsaw Rising Museum provides a thorough background to this small country and its tumultuous history.
Other significant historical sites include the infamous Nazi concentration camps of Auschwitz and Birkenau, which are today open to the public so visitors can pay their respects. There is also plenty of beautiful countryside to escape to. Bialowieża National Park is a good option - or you could hike into the Tatra Mountains or catch a cable car to Mountain Kasprowy Wierch.
Poland is blessed with an abundance of natural beauty, there are numerous lakes and canals around the Great Masurian Lake and there are also plenty of beaches along the Baltic coastline if you want to unwind. Some of Poland's key industries are machine building, iron and steel, coal mining, shipbuilding, food processing and beverages. One of its most popular beverages is, of course vodka, which the Poles claim to have invented and it is readily available throughout the country.