Eindhoven Cheapest Fares
To search and book flights to Eindhoven in 2022 and 2023, please enter your requirements and click the search button above.
Striking Eindhoven Museum Celebrates 75th Anniversary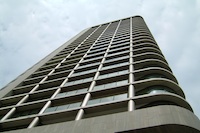 Eindhoven recently won the accolade of being voted the most intelligent community in the world but there is more to this European destination than the Brainport; the Van Abbemuseum recently celebrated its 75th anniversary.
Eindhoven is considered to be the birthplace of industry in the Netherlands, and the region is pioneering development in information technology infrastructure and applications in a variety of industries, hence the recent award, but the city is also home to a number of museums that celebrate the role that Eindhoven has played in the development of industrial design throughout the world.
Einhoven is home to Philips, one of the largest electronics companies in the world, as well as being the self-styled design capital of the Netherlands. The Design Academy is based in the city, and hosts the annual Dutch Design Week. Rather fittingly, the first Philips factory, which dates from 1892, now survives as a museum that is devoted to light sculpture.
The Van Abbemuseum has an internationally renowned collection of modern and contemporary art, and was established in 1936 by industrialist Henri van Abbe who had made his fortune from the manufacture of cigars. The Van Abbemuseum is a listed building that is famous for the striking, angular, architecture that houses labyrinth-like networks of rooms and spaces that can accommodate exhibitions ranging from small prints and drawings to large-scale exhibitions of work by particular artists, as well as huge installations. It also has a range of facilities which include an auditorium, an education centre and a cafe.