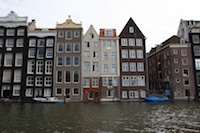 Book cheap flights to Netherlands by selecting an airport destination in Netherlands below. Compare flights to Netherlands from over a hundred airlines worldwide and book online with us today.
The Netherlands, which is commonly but incorrectly referred to as Holland, is a country in north-western Europe made up of twelve provinces, two of which are North Holland and South Holland. It is a part of the Kingdom of the Netherlands, with a cluster of Caribbean islands making up the rest of the constituency. Its industry largely lies in metal production and agriculture. The Netherlands has been dubbed the Happiest Country in the World, and is renowned for its high quality of life.
The capital city of the Netherlands is Amsterdam, although its seat of government is in its third-largest city, The Hague. When you arrive in the country, you will most likely land in its main international airport, Amsterdam Airport Schipol. Even if your eventual destination is further afield, it is hard to resist walking around the vibrant capital city, staring in awe at the sights it has to offer. Intense culture radiates from every angle as you lap up the quirky characteristics of this utterly unique city. We all have a friend who has visited Amsterdam and returned home brimming with enthralling, unusual tales – now, it can be you!
Amsterdam, though wonderful, is not the end of the wonders this splendid country has to offer. Wander around the elegant city of Haarlem, which is steeped in historical significance. Cycle around some of the country's vast, glistening lakes. Take in the superb, post-war architecture in Rotterdam. Relax on some of its grand, sandy beaches. Explore the Netherlands' rambling, wildlife-filled National Parks. Welcome to the world's happiest country.