Rennes Cheapest Fares
The lowest fare found to Rennes (RNS) was £100 with Flybe. The fares shown here are the lowest flight prices to Rennes obtained in actual searches by Just The Flight customers. To search and book flights to Rennes in 2022, please enter your requirements and click the search button above.
Rock Out in Rennes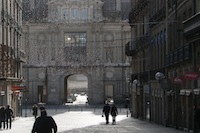 Rock'n Solex has been rocking Rennes, France, for decades, drawing big, energetic crowds every single May with a wide array of interesting musical acts.
Rock'n Solex brings lively entertainment to Rennes for three nights every year. The festival draws more than a dozen musical artists and scores of eager fans. More recently, the festival also added a showcase specifically for youth groups. The showcase allows younger musicians to take part in the festivities and show their stuff on the big stage. The youth performances kick off the opening of the festival.
Mature bands are still the mainstay of the event, however. In the past, groups have arrived from all over the world to perform for Rock'n Solex. Musical acts have included Elisa do brasil, Youngblood Brass Band, Roots Manuva, ABD Al Malik, Breakbot, and Chinese Man.
Rock'n Solex also hosts events leading up to the big festival, including Rock'N The Environment and The Route'n Safely. Rock'n Solex builds up excitement for the main event in March with its Tremplin event, featuring big name bands performing live.
Rock'n Solex is not just about music, however. The event originally started out as a way for solex racing enthusiasts to gather and compete against each other. That spirit continues today. The festival has grown into one of the largest gathering for solex racers in Europe, bringing in hundreds of drivers.