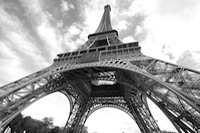 Book cheap flights to France by selecting an airport destination in France below. Compare flights to France from over a hundred airlines worldwide and book online with us today.
Stretching from the Atlantic shores of northern Europe, through rolling countryside, majestic mountains and right down to the glamorous beaches of the Mediterranean, France is steeped in history, culture and excitement guaranteeing a memorable visit for everyone.
With international airports in most of the major cities, fast and reliable intercity trains and modern, scenic country roads, France guarantees easy access to a huge choice of activities for travellers throughout the land. Visit the cultural epicentre of the capital city Paris, the 'City of Light' to enjoy art, theatre, shopping, and romance, or indulge in the jet-set lifestyles of cosmopolitan St Tropez, Toulouse, and Nice.
Famous for its for delicious wines, champagne and cuisine, no trip to France is complete without sampling some of the diverse epicurean delights enjoying local specialities from sweet crepes in Normandy, hearty Beef Bourguignon in Burgundy or a refreshing Nicoise salad in Provence. Take a vineyard tour to learn about regional wines from Bordeaux to Rhone and Loire to Languedoc.
Sports enthusiasts are spoilt for choice as France offers a huge variety of snow sports destinations including the Alps and the Pyrenees. During the summer, cycling is popular throughout the beautiful countryside, and during July you can watch the professionals during the world famous 'Tour de France' cycle race.
France boasts all types of accommodation including luxury hotels, rustic country farmhouses and informal bed and breakfasts. Camping is especially popular with modern and friendly campsites all over the country where you can pitch up your tent, park your caravan, or even hire a yurt.