Ajaccio Cheapest Fares
To search and book flights to Ajaccio in 2022, please enter your requirements and click the search button above.
Annual festival celebrates the birth of Napoleon Bonaparte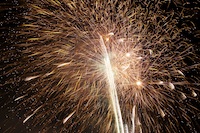 Ajaccio is the largest city and capital of the island of Corsica, which is part of France. With the gulf of Ajaccio on one side and forest covered mountains on the other, this is a popular destination with both French and international visitors, thanks also to the pleasant climate and coastal location. The city is best known as being the birthplace of Napoleon Bonaparte and visitors can view his birthplace, a museum and statues dedicated to the man. The people of Ajaccio also hold annual festivals and events celebrating the famous Emperor's birth.
The French military leader, Napoleon Bonaparte, was born in Ajaccio on 15th August 1769. It is around his birthday that most celebrations in the city take place, though a number of smaller events are held in the summer months leading up to this date. The Fetes Napoleoiennes include a great variety of events, ranging from lectures and film showings to historical performances and displays. Demonstrations of period weapons take place, as well as live music and plenty of activities for children.
During the festival, people dress in period costumes and celebrate in the streets as events take place throughout the city. An extravagant firework display over the bay is a highlight of the festivities, as is the parade through the streets. Visiting the city at this time of year gives travellers plenty to do while learning more about the history of the region and its most famous son.