Figari Cheapest Fares
To search and book flights to Figari in 2021, please enter your requirements and click the search button above.
Figari's Porto Vecchio Festival Focuses on New Rock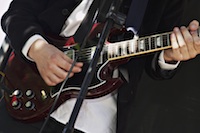 Figari Airport is located on the island of Corsica next to the town of Porto Vecchio. Travellers taking flights to Figari will have access not only to the beauty at the southern end of Corsica, a French island in the Mediterranean, but also to the Porto Vecchio Festival. Taking place each September, the festival welcomes more than 10,000 visitors to this destination and focuses on presenting intriguing new musical styles including polyphonic singing and electro rock.
In years past, the line-up at the festival has included an eclectic mix of bands and individuals such as Make the Girl Dance, Mila, Greg Boust, Pony Pony Run Run, and the Naive New Beaters. Although several venues around Porto Vecchio participate in the festival, one of the biggest and most popular is the Via Notte nightclub which presents performances by groups demonstrating a mix of musical styles.
This festival is scheduled each year to take place over a long weekend in early September and is quickly becoming known as one of the best destinations in Europe to go for music adhering to the newest styles. Fewer than 3,000 people live in the entire canton of Figari in which Porto Vecchio is located, which means that when tourists descend for the festival, the town becomes a bustling, energetic place. Days of sun and surf and nights of music mean that the Porto Vecchio festival will continue to draw visitors to Figari for years to come.