Pau Cheapest Fares
To search and book flights to Pau in 2020 and 2021, please enter your requirements and click the search button above.
Pau culture celebrated at Hestiv'Oc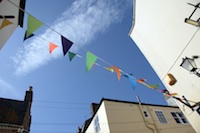 Hestiv'Oc is a massive celebration of the culture and way of life of Southern France and the Occitan region, and is held every year in the picturesque town of Pau. It is a great opportunity for visitors to get a real experience of the town, the surrounding area and all that it and its people have to offer. It attracts a large number of people from France and further afield.
The event takes place over four days in August, and brings an incredible party atmosphere to the town. A series of musical concerts are held, featuring artists from across the South of France – both well-known musicians and other up and coming ones. Visitors can also enjoy street performances, carnival processions, dancing, film viewings and sporting events. With the emphasis of the event being on the culture of the region, the aim is for all aspects of this to be showcased. Therefore, the range of entertainment is fantastic.
During Hestiv'Oc the town of Pau becomes an even more magical place than usual, with bunting and decorations lining the streets. With tens of thousands of people descending upon the area the atmosphere is amazing, and it is the perfect chance to discover the unique culture of Southern France.
There are regular flights to the town's local airport. It is possible to fly in from Paris, London and Amsterdam as well as some smaller European cities. With these links to major European transport hubs, reaching the festival and surrounding area from most places should not be a problem.