Avignon Cheapest Fares
To search and book flights to Avignon in 2021, please enter your requirements and click the search button above.
The Festival d'Avignon Presents Three Weeks of Theatre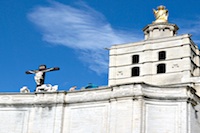 Every year since 1947, the French city of Avignon has hosted the Festival d'Avignon, an annual celebration of the arts. No modern French festival has lasted longer, but this only partly explains why both French citizens and visitors from abroad take flights and trains to reach this destination, year after year. The main focus of the festival is the theatre: a typical year includes almost a thousand different performances taking place over the course of just three weeks.
The Festival d'Avignon has two parts, referred to as "In," and "Out," each has its own style and focus. The "In" Festival is sponsored by several levels of the French government and is supervised by seven public figures well-respected for their contributions to the theatrical arts. Parts of the "In" Festival take place in the courtyard of the medieval Palais des Papes, the palace in which the Avignon popes resided during the 14th century. This lends the performances an ambiance certain to please both art and history lovers. The Palais de Papes has been designated as a World Heritage Site by the United Nations. As such it is well established as a must-attend destination for those wishing to sample fine culture.
The "Out" Festival, in contrast, is administered primarily by theatrical companies and focuses on performing in less formal venues such as local schools. The "Out" Festival also includes a number of street performances. Between the "In" and "Out" Festivals, even the most avid fan of theatre will find plenty to see and do.