Grenoble Cheapest Fares
The lowest fare found to Grenoble (GNB) was £58 with EasyJet. The fares shown here are the lowest flight prices to Grenoble obtained in actual searches by Just The Flight customers. To search and book flights to Grenoble in 2022 and 2023, please enter your requirements and click the search button above.
Cabaret Frappe in Grenoble attracts thousands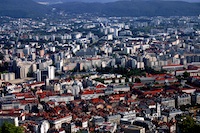 The Cabaret Frappe Festival is always just around the corner, promising an international, musical celebration. Talent from all continents, producing all styles of music, descend upon Grenoble, France, to get residents and visitors grooving. It is the event of the season, drawing tens of thousands of fans.
Summer in the city of Grenoble can only mean on thing, The Cabaret Frappe festival is in sight. This festival offers an eclectic programme featuring artists from different backgrounds, different worlds of music, both professional and amateur coming together to celebrate music. Approximately 50,000 fans turn up each year, to listen to jazz for free under the legendary bandstand.
The Cabaret Frappe Festival has been going strong, for more than a decade. In that time, it has supported contemporary musical creation and fostered greater accessibility to the masses. Music lovers, young and old, find common ground among the musical entertainment and enjoy each other's company in the warm festive atmosphere.
The festival is funded by the city of Grenoble and, in the interest of public service, the fees for attending are more than reasonable. The Marquee holds concerts for paying customers but the Garden City Kiosk holds free concerts every night at seven for the duration of the festival. The Zicbus hosts free concerts by local groups, in its intimate setting. Each group gives four 20 minute concerts to small audiences on an old bus. A unique experience to be had, for sure.
The Cabaret Frappe Festival, in Grenoble, offers something for every true music lover and some unforgettable experiences for every visitor. Grenoble is a beautiful place to visit and in the summer it is a grooving place too.