Dinard Cheapest Fares
To search and book flights to Dinard in 2020 and 2021, please enter your requirements and click the search button above.
Dinard is a Fine Destination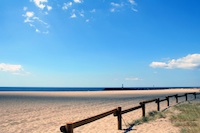 Located on the coastline of Britanny in Northern France, Dinard has for a long time been a great destination for travellers from all over Europe. There's a lot to do in this fine resort town, and for those looking for a relaxing vacation along a coastal town, Dinard will not disappoint.
Dinard is known as an elegant seaside resort destination, and rightfully so – Dinard very much resembles an upmarket resort town, full of beautiful beaches, cosy cafes and lots of beautiful parks and gardens. The Parc De Port Breton is one of Dinard's finest parks, featuring a zoological area showcasing many species of animals. Don't miss the Promenade En Bord Sur Mer, which offers a great natural experience, including beautiful gardens and a coastal walk. Or one could just choose to go to Dinard's many beaches, the main ones being Ecluse, Prieuré, St Enogat and Port Blanc. In Ecluse Beach, there's a lot to do, from water sports like kayaking and windsurfing, to joining keep-fit sessions organised by others on the beach. If not, one can just laze on these pristine, sandy beaches.
Dinard is also known for offering fantastic food that will leave travellers wanting to come back, if for nothing else but the fine cuisine. Dinard houses many fine restaurants and cafes, many of which offer local delicacies such as seafood, which Britanny is known for. Watch the sunset over a plate of seafood, or sip champagne while admiring the beautiful coastal view Dinard is known for.
For travellers looking to just kick back and relax, Dinard is one of those places worth going to.