Bergerac Cheapest Fares
The lowest fare found to Bergerac (EGC) was £162 with Flybe. The fares shown here are the lowest flight prices to Bergerac obtained in actual searches by Just The Flight customers. To search and book flights to Bergerac in 2021, please enter your requirements and click the search button above.
Enjoy fine cuisine in Bergerac, France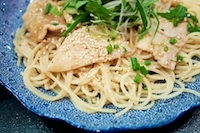 The town of Bergerac lies due east of Bordeaux and, along with its larger cousin, is well known for producing some of the best wines in the world. Haute cuisine is also served, but informal meals and snacks can also be found at any time.
Several festivals are held in the destination and surrounding areas, where gourmet chefs and up-and-coming students put together meals to remember. Taking a holiday in Bergerac to enjoy one of these festivals will be something you'll remember forever.
Mid-July is a wonderful time to visit as all of France celebrates Bastille Day on July 14. Along with that, the destination of Bergerac puts on its Tables de Roxanne et Cyrano festival with music, the famous play Cyrano de Bergerac and, of course, food and wine. The town bustles with merchants and vendors and a party atmosphere pervades every bar. It's a favourite time to visit, but hotels should be booked well in advance in order to secure a room.
During the Tables de Roxanne, you'll find not only food and wine, but free concerts throughout this charming destination. Many are open-air concerts, since the weather is generally perfect for sitting on the grass, sipping some wine, and listening to jazz, blues, or some French rock music. There are also opportunities to speak with local chefs and musicians as you stroll the cobbled streets. Follow that up with some marvelous French food, or a simple piece of bread, and you have a perfect summer evening in France!