Le Mans Cheapest Fares
The lowest fare found to Le Mans (LME) was £172 with Air France. The fares shown here are the lowest flight prices to Le Mans obtained in actual searches by Just The Flight customers. To search and book flights to Le Mans in 2021, please enter your requirements and click the search button above.
International sports car race brings visitors to Le Mans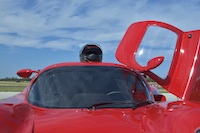 The French town of Le Mans has a long history and is located in the Pays de la Loire region of the country. With a beautifully preserved old town area and remnants of a Roman wall and Roman baths, it has long been a popular destination with tourists. However it is primarily known for its motor sports heritage, with one of the most famous car races in the world, the 24 Hours of Le Mans, taking place there every year in June.
First held on public roads just outside the town, in 1923, the Le Mans 24 hours is the world's oldest endurance race. The event involves a great deal of strategy and planning as teams have to ensure their cars are able to continue for an entire 24 hours while still being competitive enough to beat their rivals. This has led to the race being nicknamed the Grand Prix of Endurance and Efficiency. The stamina of drivers is also pushed to the limits, as each spends at least two hours racing before swapping places with a teammate. Nowadays each team has three drivers who alternate throughout the race.
Fans of the event can enjoy other activities outside the race itself. Tours of the pit lane are offered, there is a driver's parade and support races are run on the morning of the main event. In addition, an entire village is constructed ally for this one event, where fans can meet, find something to eat and drink and purchase souvenirs of the event.