Strasbourg Cheapest Fares
To search and book flights to Strasbourg in 2020 and 2021, please enter your requirements and click the search button above.
Strasbourg Christmas Market one of the oldest in Europe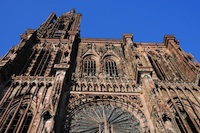 Strasbourg may have built a reputation for serving as the home of the European Parliament, but the city offers visitors much more than politics and the institutions of the European Union. Christmas Market is certainly not the new kid on the block when it comes to annual outdoor events and major cultural programmes.
The Christmas Market was established in 1570 and it served as a bastion of Strasbourg's Protestant community and culture during a time of great religious strife and conflict between Roman Catholics and Protestants. The Christmas Market is not only one of the oldest, but also the largest in continental Europe and features a wide array of booths, kiosks and shops, stretching from Strasbourg's Cathedral Square to Place Broglie. Each year, the market plays host to over 300 stalls, with local merchants and artisans selling everything from homemade baked goods for the holidays, as well as spice wine, fresh doughnuts with locally produced jams and handmade Christmas tree ornaments.
This French destination's Christmas market is about much more than just buying goodies and ornaments, however. It also serves as an important cultural and recreational venue, offering visitors an array of evening and daytime concerts, as well as an ice skating rink, located right next to the cathedral. The event provides an opportunity for the population of the culturally diverse Alsace region to showcase a range of skills, including work by local artists and musicians.
At the very centre of this colourful destination's holiday market is a huge Christmas tree, which is planted in Place Kleber and lit by an array of lights each evening.