Karlsruhe-Baden Baden Cheapest Fares
To search and book flights to Karlsruhe-Baden Baden in 2020 and 2021, please enter your requirements and click the search button above.
Baden Baden Christmas Market in Karlsruhe Welcomes Tourists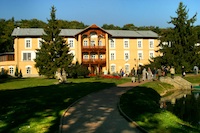 The German town of Baden Baden is home to a world-famous spa, but every December it also transforms itself into a winter wonderland and an irresistible seasonal destination with the Baden Baden Christmas Market. Throughout the Advent season, this event, known locally as the Christkindlesmarkt, draws tourists from across Germany, the Continent, and as far away as the UK.
More than fifty speciality stalls are set up for the event. Exquisitely decorated, they sell Christmas-themed merchandise for both children and adults, including toys, craft kits and supplies, and a variety of high-quality wood carvings, as well as products from the renowned firm of Tiffany. To keep shoppers entertained at this destination, music is performed twice each day on a centrally located stage. The performances range from orchestras and choirs to local bands.
Perhaps the most special event of all is the "living crèche" or nativity displayed during this time. Live animals such as lambs and sheep accompanied by a live shepherd serve to keep the central message of Christmas alive at the festival. The nativity scene nearby features a life-sized manger.
Tourists taking flights from other places in Europe will want to book arrivals at the Airport Karlsruhe/Baden-Baden which serves the entire region. Baden Baden is a town situated in the foothills at the western edge of the Black Forest, which dominates much of the Karlsruhe region in the south of Germany.