Just the Flight's Guide to Frankfurt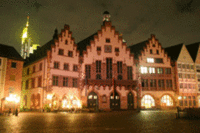 For some, the name "Frankfurt" may conjure up images of Frankfurter sausages. Indeed, that is where the famous hotdog sausage derives its name. Of course, the city of Frankfurt has a lot more to offer than simply Frankfurter sausages.
The full name of Frankfurt is actually "Frankfurt am Main", which translates to "Frankfurt on the Main" in English. This is due to the city's location on an ancient ford on the river Main. Frankfurt is also the transportation and financial centre of Germany and home to several important institutions such as the Frankfurt Stock Exchange, Frankfurt Trade Fair, the European Central Bank and the German Federal Bank.
Frankfurt Airport is one of the world's busiest and most accessible international airports, literally just a 3-hour flight or less from many European cities. Every week there are more than 4,000 flights to Frankfurt from more than 120 airlines, so finding cheap flights to Frankfurt is certainly not a laborious task.
Frankfurt has a rich historical and cultural heritage, so any trip to Frankfurt would not be complete without visiting one of its renowned museums. Most of them are concentrated in a district called Museumsufer - a fitting name. You will find that each museum focuses on a particular field of study, for example the Architektur Museum (German Architecture Museum), the Deutsches Filmmuseum (German Film Museum), the Historisches Museum (Historical Museum), Museum der Weltkulturen (Museum of World Cultures), Museum für Kommunikation (Museum of Communication), and others.
One particular museum that children will certainly appreciate is the Senckenberg Museum. This is one of the largest Natural History Museums in Germany and showcases the biodiversity of living organisms and explains evolution as well as the transformation of planet Earth over the ages. New discoveries in the sciences of palaeontology, geology and biology are also on exhibit. Among some of the highlights are the Edmontosaurus- a unique fossilized "dinosaur-mummy" with an almost intact preserved skeleton; and the Quagga, a species that resembles a half horse, half zebra that became extinct in 1878.
If you are into 3D (three dimensional) devices and phenomena, you will enjoy visiting the Explora museum situated in the Glauburg Bunker at Glauburg Platz, opened by owner Gerhard O Stief. Gerhard had a life-long fascination with optical illusions and three dimensional pictures, and he decided to share his remarkable collection of stereo cameras, stereo viewers, stereo cards and other 3D-related items with the public.
Yet another place worth taking a look at is the Goethehaus, the house of the celebrated German writer Johann Wolfgang von Goethe, who was born on 28th August 1749. Upon stepping foot there you will immediately get a sense of how life was like in the late baroque period. This house was completely destroyed during World War II but then restored to its former glory between 1946 and 1951. Most of the items on exhibit there are not from the Goethe family but are from the same time period. Just next door is the Goethe Museum, which was renovated together with the Goethehaus and has a library and a bookshop.
If the children have exhausted all the museums of Frankfurt, then one place that will keep them entertained for hours is the Frankfurt Zoo located in Ostend, which has more than 3000 different animals spanning 600 species. It is well known for keeping the animals in surroundings that are very similar to their own natural habitats. Some of the popular attractions are the Big Cat Jungle where lions, tigers and other ferocious cousins of the cat family roam freely at close range separated from visitors only by a ditch or glass pane; the Grzimek House where you can see exotic nocturnal animals in their artificial nighttime environments; and the Exotarium where you can see many species of reptiles, penguins, fish, insects and other interesting creatures. Frankfurt Zoo is certainly one of the world's renowned zoos, so a visit here is definitely one you do not want to miss out on.
Part of experiencing a foreign culture is to sample its local specialty foods. There is a lot of variety here, for example; sausages with sauerkraut; grüne Soße, a green sauce prepared from herbs; and the wonderful Handkäs mit Musik (hand cheese with music), a soft, pungent cheese laden with plenty of onion. Be adventurous and try as many different foods as you can.
Travellers can book flights to Frankfurt and enjoy this enchanting city at any time of the year, as the climate is generally well balanced throughout, experiencing warm summers with occasional wet days, and mild to chilly winters.