Cologne Cheapest Fares
The lowest fare found to Cologne (CGN) was £324 with Austrian Airlines. The fares shown here are the lowest flight prices to Cologne obtained in actual searches by Just The Flight customers. To search and book flights to Cologne in 2022 and 2023, please enter your requirements and click the search button above.
Crazy Days in Cologne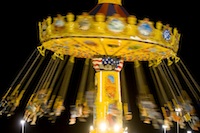 The first week in February sees one of Cologne's festival highlights, the Carnival. The destination's streets are thronged with parades and floats whilst the market area is filled with activities. The city of Cologne has celebrated since time immemorial. In 1823, the first Rose Monday was celebrated with the motto 'Enthronisation of the Carnival Hero'.
Some traditions and customs have appeared over the years and become part of the traditional Cologne Carnival. The indoor festivities include balls, and the street carnival ends with the grand parade on Rose Monday. Pub and bar closing times are suspended during the festival. The 'Crazy Days' are celebrated with parties in pubs and public squares.
The traditional gathering of the colourful Corps troops takes place at the Neumarkt on the Saturday, and school groups and borough parades take place on Carnival Sunday all around the city. The Carnival ends on Shrove Tuesday.
The Church Calendar dictates the date of Rose Monday, so it is always the Monday before Ash Wednesday, which is the beginning of Lent and leads to Good Friday and Easter.
Cologne Cathedral is the most visited architectural monument in Germany with about six million visitors a year. It is a UNESCO World Cultural Heritage Site. As well as the cathedral there are world-class museums, the Philharmonic and Opera House, and numerous theatres in this cultural tourist destination.
Cologne airport is situated about nine miles south-east of the city centre and is a major international airport with flights from all over the world.