Dortmund Cheapest Fares
To search and book flights to Dortmund in 2022 and 2023, please enter your requirements and click the search button above.
ExtraSchicht (Industrial Heritage Night) in Dortmund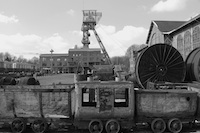 The Industrial Heritage Night is a unique event on the Dortmund calendar. This cultural celebration is held annually when coal mines and museums are brought together in order to illustrate the history of Dortmund via music, dance, and theatre. There are more than 50 events that take place in different locations throughout the town. Fortunately, the available methods of transportation to get to these performances are varied and reliable. In addition to the usual buses, trains, and trams, visitors have the option of travelling by museum-piece railway trains, vintage trams, or a ship shuttle on the Rhine-Herne canal. There is also a bicycle shuttle available for transport to the venues.
The Industrial Heritage Night is a one-night event that turns former and active industrial plants into stages for performances by international artists. Over 160,000 visitors join in on an exciting discovery journey. Participants set out on individual tours throughout the night using the shuttle bus system that has been specially organized for the event, enabling them to travel easily from venue to venue.
There are also special performances that are featured on a number of "hubs," as well as spectacular final productions that are held after midnight. From 6pm to 2am, visitors can sample approximately 40 venues and enjoy programmes that include classic music and hip hop tunes. There are also street performances and guided tours to enjoy.