Paderborn Cheapest Fares
To search and book flights to Paderborn in 2022 and 2023, please enter your requirements and click the search button above.
The Libori Festival – A Festival of the Church and the People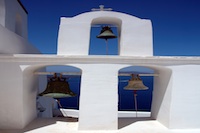 According to an old saying "in Paderborn, it is either always raining or the bells are always ringing." The charming, historical university city of Paderborn in the Westphalia region of Germany is home to one of the country's most unique cultural experiences, the colourful Libori Festival. This vibrant festival provides visitors with the perfect opportunity to experience a combination of religious tradition, folk festivities, culture, theatre and secular entertainment.
Generally held during the last week of July in honour of Paderborn's patron, the 4th century Catholic Saint Liborius, whose relics have been interred at the cathedral in the city since 836, the nine-day festival is a celebration of both the church and the people. It delivers an energetic mixture of concert performances by various bands, artists and church musicians as well as art exhibitions and theatrical shows.
The event is one of the largest and oldest celebrations in Germany and is the most important one to be held in Paderborn. There have been over one million visitors to past Libori festivals, with locals and tourists alike celebrating well into the night.
Located in the heart of Germany, Paderborn comes to a temporary standstill as the centre of the city is transformed into the region's longest bar. Visitors are ceremoniously greeted by the ringing of the cathedral bells and can also join in impromptu sing-alongs in the streets. On the final day, there is a spectacular fireworks display marking the end of the festival.