Just the Flight's Guide to Munich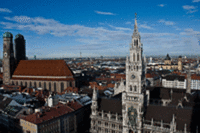 Munich is the third largest city in Germany and the capital city of Bavaria, Germany's largest federal state. It is well known for its culture, architecture and the annual "Oktoberfest" beer celebration.
It is relatively easy to get around Munich due to its efficient public transport system. You can even rent a bike and ride your way around the city as there are bike lanes on all major streets. You can get direct flights to Munich from many international airports such as Atlanta; New York, San Francisco, Los Angeles, Philadelphia, Delhi, Chicago, Mumbai, Shanghai, Beijing, Hong Kong, Seoul, Singapore, Tokyo, Dubai, Bangkok and Doha. Cheap flights to Munich are available from a number of locations. Visitors will land at Munich International Airport, the second biggest German airport, which has won the "Best Airport in Europe" award for the third year in a row.
Munich is home to a large variety of museums, art galleries, historical buildings and concert halls. If you are into science and technology, you will definitely want to visit the Deutsches Museum (German Museum of Masterpieces of Science and Technology) located on an island in the Isar River right in the centre of Munich. This is the largest of such technological museums in the world. Here you can find an immense collection of valuable artefacts such as the first automobile (Benz, 1886), the first electric dynamo (Siemens, 1866), the laboratory bench where scientists first split the atom (Hahn, Strassmann, 1938) and the first diesel engine (1897). You can also interact with many of the displays and learn further information from the English-speaking staff. Some of the amazing displays include high-voltage displays that actually produce lightning; glass blowing and papermaking demonstrations; computer science, microelectronics, automation, and the largest permanent astronomy exhibition in Europe.
For art lovers, head to the Alte Pinakothek, Munich's most important art museum, with nearly 900 paintings on display. This started as a small collection by the royal Wittelsbach family in the early 1500s, but has since grown to include many works from the greatest European artists from the 14th to the 18th century. The masterpieces of the collection include a self-portrait by the young Rembrandt (1629) and works by Lucas Cranach, including his Venus.
Something that the kids will enjoy is a puppet exhibition on the third floor of the Münchner Stadtmuseum. There are puppets from around the world, including marionettes, hand puppets, puppet theatres and miniature scenery. There is even a section showcasing fairground art like carousel animals, wax and museum figures, roller-coaster models and shooting galleries.
Another attraction for the children is the Bavaria Film Studios, Munich's version of Hollywood and Europe's largest filmmaking centre. See film presentations and the Bavaria Action Show, which has a stunt team showing some nerve-wracking fistfights, staircase falls, fire stunts and even a 92-feet plunge. Visitors can also interact with the movie props of films that have been made here, two popular ones being The Sound of Music and The Neverending Story.
Last but not least, we will take a look at a major event that attracts thousands of flights to Munich every year - Oktoberfest, a 16-day annual festival held in the City. This runs from late September to early October so, if possible, schedule your trip to coincide with this important event of Bavarian culture. Other cities throughout the world also hold Oktoberfest celebrations, modelled after this Munich event. The festival takes place within an area labelled the Theresienwiese (a meadow, or field, of Therese), often called d' Wiesn for short.
Since 1950, Oktoberfest has begun with a traditional opening ceremony including a 12 gun salute. During the ceremony, the Mayor of Munich taps the first keg of Oktoberfest beer with a hearty cry of "O'zapft is!" ("It's tapped!" in the Austro-Bavarian language). The Mayor then gives the first beer to the Minister-President of the State of Bavaria.
Plenty of mouth-watering traditional food is served at Oktoberfest. Get stuck into hearty fare such as Haxn (pork knuckle), Schweinsbraten (roast pork), Brezel (pretzel) with Würstl (sausages), Kaasspotzn (cheese noodles), Knödeln (potato or bread dumplings), Reiberdatschi (potato pancakes), Steckerlfisch (grilled fish on a stick, Hendl (chicken), Blaukraut or Sauerkraut (red cabbage) along with other favourite Bavarian delicacies as Weisswurst (a white sausage) and Obatzda (a, spiced cheese-butter concoction).
Sounds like great fun, doesn't it? Try your best to visit Munich, the original Oktoberfest city, at least once in your lifetime. You and your family will certainly have a fantastic time there!