La Rochelle Cheapest Fares
The lowest fare found to La Rochelle (LRH) was £102 with EasyJet. The fares shown here are the lowest flight prices to La Rochelle obtained in actual searches by Just The Flight customers. To search and book flights to La Rochelle in 2022 and 2023, please enter your requirements and click the search button above.
Bastille Day in La Rochelle, France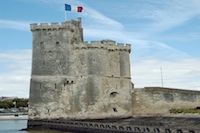 Bastille Day is a national holiday celebrating French independence with numerous annual festivals, including the event in La Rochelle, France. Bastille Day is on July 14th every year commemorating the 1790's Fete de la Federation in which the storming of the Bastille occurred. Numerous celebrations, such as military parades, balls, concerts, and fireworks mark the event throughout the country.
Bastille Day in La Rochelle, France, begins at dusk and is free to anyone including holidaymakers from the UK. The evening starts with numerous activities in the streets, such as food markets and live music. As the sky darkens, the city prepares for fireworks to be displayed over the sea at La Rochelle's port.
The celebration marks the end of the French monarchy that allowed the French Republic to start. People destroyed King Louis XVI and the Bastille. The Bastille was a French Prison that still stands today and is open to tourists. The Bastille was a symbol of rejection for absolutism and the fact that there was a common desire among the people for a better life, even the right for self determination.
In 1880, the 14th of July was declared a national holiday and is now celebrated in La Rochelle, Paris, and many other French cities and towns. The Champs Elysées hosts the only military parade. The destination of La Rochelle is in the western region of France on the Bay of Biscay. The port is worthy of seeing during the day before the Bastille Day Festival begins.