Calvi Cheapest Fares
To search and book flights to Calvi in 2020 and 2021, please enter your requirements and click the search button above.
Calvi, a Gem of a Corsican Town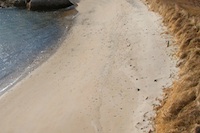 Calvi is a town located on the French island of Corsica. Approaching your destination by sea, you are sure to admire its three large bastions surrounded by tawny coloured buildings and tree-topped mountains. The town began life as a fishing port and went through a period in the 1950's when it was favoured by European socialites. Today, it boasts a glamorous marina and plenty of souvenir shops and boutiques. The Quai Landry Walkway connects the marina and the port and is the site of numerous restaurants and cafes offering authentic Corsican cuisine. Calvi's beach is accessible from the end of the walkway, with the first kilometre being lined by bars that rent sun loungers. However, further along the sand track you will find your ultimate destination, a much more intimate private beach, which provides an ideal view across the bay. The sea is warm and shallow, ideal for swimming and paddling.
Calvi hosts the Festival du Vent or Festival of the Wind, every year in October. The festival is one of Calvi's biggest, with 600 people contributing towards organising the various activities. Visitors can enjoy art, theatre and various types of music concerts. For the more adventurous types, there is paragliding, sailing and windsurfing on offer, while for those who prefer to stay dry there is kiting and ballooning. This environmentally friendly festival is dedicated to peace and the natural Earth, so there are also eco-workshops and recycling workshops for children. The Festival du Vent is a combination of art, sport and technology and apart from some of the major concerts, is free to enjoy.