Saskatoon Cheapest Fares
To search and book flights to Saskatoon in 2022 and 2023, please enter your requirements and click the search button above.
Reasons to Love Saskatoon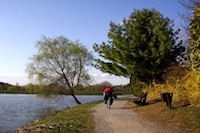 The StarPhoenix, a newspaper and online publication, recently ran a feature called "52 Reasons to Love Saskatoon".
According to Tourism Saskatoon, this destination has a lot going for it already, including a scenic parkland setting on the banks of the South Saskatchewan River, more annual sunshine hours than any other Canadian city and over 400 acres of riverbank trails and parks, making this destination perfect for hiking, biking or a round of golf at one of its seven challenging courses.
The StarPhoenix has been inviting readers and locals to reveal what gives the prairie city its unique flavour and makes life in Saskatoon worthwhile.
One of the reasons given is the Meewasin Valley Trail that follows the South Saskatchewan River through Saskatoon, providing year-round access to the unspoilt beauty of its river banks.
Running between Pike Lake and Clark's Crossing, the Meewasin Trail consists of 60 kilometres of varied terrain. In summer, the public make use of the trail for cycling, running and walking, whilst in winter, cross-country skiing along the trail and skating in Kiwanis Memorial Park are popular.
Also dear to Saskatonians are the iconic Bessborough Hotel, opened in 1935 – amongst the last of the great railway hotels built by the Canadian National Railway – Saskatoon berries, the smell of the place and the Saskatoon Blades ice hockey team.