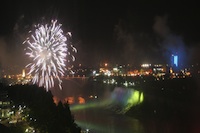 Book cheap flights to Canada by selecting an airport destination in Canada below. Compare flights to Canada from over a hundred airlines worldwide and book online with us today.
Canada is located in the north of North America and shares its borders with the USA. With the North Atlantic Ocean to the east, the North Pacific Ocean to the west and the Arctic Ocean to the north, the country's climate varies greatly, ranging from mild in the south to very cold in the north. The capital city, Ottawa, is the second largest city in the Province of Ontario and the fourth largest in the country. Ottawa International Airport is located close to the capital, which has several sophisticated public transport systems. Other major cities in Canada include Toronto, Vancouver and Montreal.
Canada has a strong and long established tourism industry, with millions of visitors flying to and from the country throughout the year. The country's cities offer much in the way of culture, history and entertainment; the Canadian Rockies and Athabasca Sand Dunes cater for the more adventurous and sporty travellers; Wascana Lake and Niagra Falls offer some of the most breathtaking areas of natural beauty in the world and a thriving food and wine industry is also popular with tourists. There really is something for everyone and never a dull moment; visitors can ski, hike, sail, swim and shop to their heart's content.
Canada's service industry is the main employer in the country, which exports huge quantities of wheat, barley, oilseed, tobacco, fruits, vegetables and forest products. The tourism industry receives large amounts of funding each year and remains a strong source of revenue for the country.