Gateway to a Valley of Excitement and Entertainment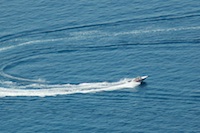 Kelowna is an attractive small city in a perfect location, surrounded by mountains, in the southern part of British Columbia, Canada's westernmost province. Arguably its main feature is Okanagan Lake, which is some 68 miles long, with Kelowna sitting as the gateway to the Okinagan Valley.
Lakes, orchards, pine forests and vineyards rub shoulders with sandy beaches and the magnificent surrounding peaks. There are so many things to do in and around this destination that a short visit is likely to make visitors wish they had stayed for longer.
For those who enjoy the great outdoors, the summer months provide plenty of opportunities for water-sports and swimming, windsurfing, water-skiing and boating can all be sampled. For visitors who prefer to keep their feet dry, there are many golf courses, which are normally open for nine months of the year. In addition, there are huge areas of open parkland for hiking or biking. The winter months bring classic sporting opportunities, such as skiing, snowmobiling and snowboarding.
For visitors looking for a less energetic break the local wineries are acclaimed internationally and an excursion to one or more of them will provide intriguing insights into how wine is made. There are three wine festivals held each year and they draw thousands to explore this fascinating subject.
Culture and entertainment are high on the list of what this destination has to offer; there are museums and galleries, a huge concert venue hosting top acts and artists' studios. As far as dining and evening entertainment are concerned, there are huge range of restaurants, bars and clubs to ensure that there are always plenty of places to go to suit all tastes and pockets.