Quebec Cheapest Fares
To search and book flights to Quebec in 2020 and 2021, please enter your requirements and click the search button above.
Enjoy Canada's French historic city of culture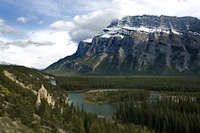 Situated in the eastern province of Quebec, Canada, is the beautiful and historical capital city, Quebec. This riverside port city hosts the largest industrial sector in the province as well as some of the most breathtaking scenery and historical monuments.
Canadian summers are much as the same as those found in most parts of Europe providing enjoyably warm days and cool evenings. If Quebec City is your summer destination, be sure to avail yourself of an island cruise and head east to the old area of Quebec City.
The International Garden Festival in Gaspesie is a natural destination for those who enjoy flora. A daytrip to the Granby Zoo and La Ronde theme park is great for kids and adults. The province of Quebec also contains more than 400 museums.
Architecture that should be explored includes the Basilique Nortre-Dame-de-Quebec and St. Joseph's Oratory. For a nice day of walking, head over to the Old Port of Montreal or stroll the historical streets of Old Quebec.
The province also offers a variety of festivals and events. Do not miss the Montreal International Jazz Fest in June, the Francofolies de Montreal, which is a large music festival in July, and Festival de montgolfieres de Gatineau. This August festival has one of the largest displays of hot-air balloons in the world.