Cranbrook Cheapest Fares
To search and book flights to Cranbrook in 2020 and 2021, please enter your requirements and click the search button above.
Explore the Canadian wilderness in Cranbrook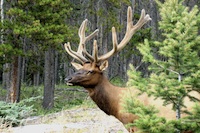 The small Canadian city of Cranbrook can be found in the south-eastern portion of the province of British Columbia. It acts as a transport hub. This metropolis of 30,000+ people lies in the distinctive region known as the Kootenay and serves more than 80,000+ residents in the area.
The ex-forestry town of Cranbrook is a great Canadian destination for those who enjoy road trips. Hiring a car in these parts will allow you to explore the many sightseeing opportunities and tourist attractions. The Kootenay region of British Columbia offers visitors a chance to enjoy art galleries, museums, National parks, historical attractions, and amusement parks.
Adventurous visitors will want to explore the many highways that take you cross-country through the lush Canadian wilderness. Discover some of the most spectacular Canadian waterfalls, breathtaking hillside views, and charming villages that dot the open spaces. If you have chosen this as your winter destination, you will be driving through snow-capped mountain peaks and maybe even skiing down a few of the nearby slopes.
A popular route for those with car hire is the Selkirk Loop. Starting in Cranbrook, the loop takes you through a variety of natural landscapes as you head south towards Washington and Idaho, and through the south-east portion of British Columbia. This roadway is known to offer up some of the prettiest natural scenery in the area as this historical route connects Canada and the United States. Most of the route follows magnificent lakes and rivers as it winds through some of Canada's most beautiful wilderness.