Edmonton Cheapest Fares
To search and book flights to Edmonton in 2020 and 2021, please enter your requirements and click the search button above.
On the Fringe of Festival City in Edmonton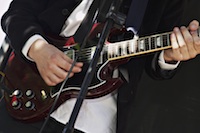 The inhabitants of Edmonton have christened it 'Festival city', and it is a moniker they have worked hard to establish because for 23 years, from 1981 to 2004, Edmonton was only famous for having the largest shopping mall in the world.
The mall is so vast that it even accommodates an amusement park and hotel. The statistics generated by the shopping centre are beyond comprehension. It covers over 6 million square feet, has over 800 shops, has parking for 20,000 vehicles, and employs more than 23,000 people. Over 28 million people visit the mall each year, and up to 150,000 shoppers visit the destination every day. Not bad going for a city of just under 800,000 people.
'Festival City' plays host to festivals all year round but the biggest event of the year on the festival calendar is the annual Edmonton International Fringe Festival. The event started back in 1982 and, as the name suggests, was inspired by the Edinburgh Fringe Festival that is held annually in Scotland. The inaugural Edmonton Fringe Festival was the first of its kind in North America and it consisted of 200 live performance that were spread across five theatre venues.
The Festival has since grown to be the largest Fringe Festival in North America and now includes over 40 street performers and nearly1,500 performances that are spread across 41 indoor theatres and outdoor stages within the city. Annual ticket sales are approaching the 100,000 mark, and it is estimated that almost 500,000 people enjoy the outdoor experiences on offer at this American destination.