Regina Cheapest Fares
To search and book flights to Regina in 2020 and 2021, please enter your requirements and click the search button above.
Annual festival embraces culture of the city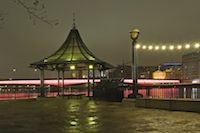 Situated in the province of Saskatchewan, in Canada, Regina is a popular travel destination, offering plenty of culture, attractions and entertainment. With an abundance of parks and green spaces, it is a very pleasant place to visit and the ongoing events celebrating the culture of the city offers plenty to entertain visitors. One of the most interesting annual events in Regina is the Mosaic Festival, which has been running for over 40 years.
Spread over three days, Mosaic is a festival that celebrates the many cultures to be found in Regina. This unique festival sees pavilions being erected around the city, each offering forms of entertainment, food, drink and festivities from different cultures. From small beginnings the festival has grown to offer more than 20 pavilions, celebrating Ethiopian, Indian, Latin American and Scottish cultures, among many others. Traditional songs and dances are performed, while displays and activities for children can be found within the different pavilions, with plenty to see and do for all the family.
Organised by Regina Multicultural Council, the Mosaic festival provides an educational and entertaining experience. Visitors can purchase a 'passport', allowing access to each pavilion and transport is provided around the city by buses, which run every half hour.
The Mosaic Festival, which has previously won Regina the title of Cultural Capital of Canada, highlights the many cultures living together in this vibrant city. Visitors wishing to experience everything this destination has to offer will enjoy the experience if they are fortunate enough to be in the area during the festival.