Penticton Cheapest Fares
To search and book flights to Penticton in 2020 and 2021, please enter your requirements and click the search button above.
Okanagan Summer Wine Festival extended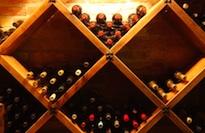 Thanks to the growing popularity of the Okanagan Fall Wine Festival, local vintners, together with the residents of nearby Penticton in British Columbia, have decided to extend their annual summer version from a weekend to a full ten days this year.
The new and improved Okanagan Summer Wine Festival will allow visitors to sample local wines at a series of outdoor tastings that have been paired with a range of culinary and cultural events designed to ensure that there is something on offer to suit the whole family.
The valley-wide festival itinerary features poetry readings, plays, cheese and wine beach parties and barbeques, as well as a wine charity fundraising event designed to coincide with the British Columbia Provincial Masters cycling race that will be co-hosted by several big cycling names.
Although mini wine festivals are currently held to mark each of the seasons, it is the annual Okanagan Fall Wine Festival that is the region's main attraction, drawing thousands of people from around the world, all keen to take in British Columbia's spectacular scenery as well as the many activities and delicacies on offer.
Over the last 30 years, the region's wine industry has blossomed, with over 50 local wineries now established in the Okanagan Valley. Penticton has become an ideal base for wine tourism, but is also a premier tourist destination in its own right, thanks to its location near two lakes and to a nearby skiing resort. The area also has an excellent climate, boasting some 2000 hours of sunshine annually.