Medicine Hat Cheapest Fares
To search and book flights to Medicine Hat in 2020 and 2021, please enter your requirements and click the search button above.
Experience the Annual Jazzfest in Medicine Hat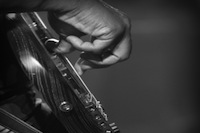 If you are in Medicine Hat, Canada during the summer, make sure you visit the Jazzfest. This event takes place every year and you could be there to experience the delights of the next one.
This festival brings everyone together in the city of Medicine Hat – both residents and visitors alike. Volunteers, performers, and guests all have a role in turning the festival into the much loved annual event it has become.
Jazz fans adore the festival for obvious reasons. However, even if jazz is not your first love, you will still find yourself being pulled into all the fun and enjoyment of the festival. Big jazz stars attend the event every summer and you can see and hear them playing live. Big names such as Hal Miller, the Alberta Latin Jazz All Stars and the Jesse Peters Trio regularly attend, along with many other famous names in the jazz industry.
The festival typically takes place over seven days, usually in June, and each day sees several acts performing in a variety of locations. Many performers take on more than one gig over the duration of the Jazzfest.
Some of the performances are free to attend, while others will cost you just a few dollars. This is usually payable when you arrive, but it is wise to check for details beforehand. It is no surprise that the city of Medicine Hat is well known for this festival. Once you see it for yourself you will discover why.