St Johns Cheapest Fares
To search and book flights to St Johns in 2020 and 2021, please enter your requirements and click the search button above.
World famous boat race draws visitors to St John's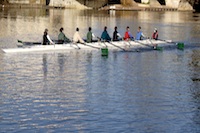 Located on the eastern side of the island of Newfoundland, St John's is commonly known as 'North America's Oldest City'. It is a very popular tourist destination, thanks to it being the oldest English-founded city in North America. St John's offers an intriguing blend of historical and modern, with traditional events being held along with modern festivals and parades. One of the highlights of the city's calendar is the Royal St John's Regatta.
The Royal St John's Regatta is an annual boat race and the oldest sporting event in North America. The earliest documented race was held in 1816, though the regattas may well have been held even earlier than that. Each year around 50,000 spectators travel to Quidi Vidi Lake, to witness the races and take part in the festivities. Racing shells are crewed by six members and a coxswain as they speed along the course, chasing victory.
The event has plenty to offer in addition to the actual racing. The night before the regatta marks the end of the George Street Festival and the celebrations continue with lakeside entertainment, plenty of food and drink and a general party atmosphere.
The Royal St John's Regatta is traditionally held on the first Wednesday of August, weather permitting and is a local holiday within the city. Though a vibrant and exciting destination at any time of year, St John's really comes alive during the regatta and preceding festival, making it an a excellent time of year to pay it a visit.