Visit the scenic harbour city of Naniamo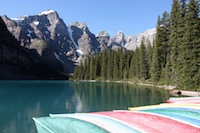 This picturesque city in British Columbia is where travellers can enjoy stunning mountain views, coastal scenery and a charming town of friendly natives. Nanaimo is a great destination for those seeking a little bit of everything in the way of nature. The area is known for its breathtaking scenery, fresh seafood, and outdoor adventures.
Located on Vancouver Island, Nanaimo is home to many of Canada's greatest treasures. Visitors will have more than enough to choose from in the way of activities in this vast area. From backpacking in the local mountains to enjoying a lively experience in the city's centre, this second largest city on the island has it all.
The city centre is where the eclectic mix of shopping opportunities, music, restaurants, shops and art galleries can be found. Check out streets such as Victoria Crescent, Fitzwilliam Street and Commercial Street for all the local hotspots.
In Nanaimo city centre, tourists will find the Old City Quarter, where the heritage buildings are located. There is also the Arts District, where the streets are lined with theatres and galleries, and the Harbourfront Walkway that is lined with plazas, unique dining spots, a swimming lagoon, and quaint shops.
For a traditional Canadian experience, take in a day of snorkelling with harbour seals. The area of Snake Island, which is one of the many gateways to Vancouver Island, is where adventure seekers will launch their snorkelling expedition. You will leave knowing that was the reason you chose Nanaimo as your Canadian destination.