Nassau Cheapest Fares
To search and book flights to Nassau in 2022 and 2023, please enter your requirements and click the search button above.
Sun and Sand in the Bahamas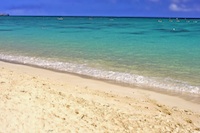 The tropical weather and the sandy beaches are the reason most tourists visit the Bahamas each year, and there really is no better reason than that! The Bahamas offer the ultimate in beach retreats for individuals and couples looking for an exciting and romantic holiday destination. A trip to the beautiful and luxurious beaches of the Bahamas offers some of the most stunning landscapes in the region, dazzling blue seas and white sand beaches that stretch for miles. The fabulous warm weather and sunshine, with warm breezes blowing through the palm trees, make it one of the most relaxing places on earth. The Bahamas gives tourists access to breath taking landscapes and relaxing retreats, making it the perfect getaway destination.
There are a host of activities that can be enjoyed in Nassau, which is known as a paradise by visitors and locals alike. Underwater diving, with crystal blue waters and a variety of astonishing sea life, is a favoured activity here, amongst others that are offered throughout all four seasons of the year.
Nassau holidays are truly an escape into an idyllic paradise filled with a unique blending of culture that is all its own. Whether visitors are seeking a retreat in a unique and exotic locale filled with a remarkable and vibrant culture, or they are looking for sunny weather and a chance to relax on the beach, Nassau has something to offer everyone that sets foot on their warm, sandy beaches.