George Town Cheapest Fares
To search and book flights to George Town in 2020 and 2021, please enter your requirements and click the search button above.
Bahamian Music and Heritage Festival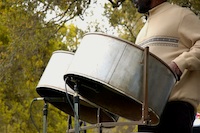 Regatta Park in George Town, Bahamas will once more play host to the annual Bahamian Music and Heritage Festival this coming March. Usually scheduled for the middle of the month, the festival concentrates on the promotion of the islands' culture and heritage as experienced through music and food, drawing many visitors to this exotic destination. George Town is located in the district of Exuma, which consists of over 300 small islands.
Usually opening on a Thursday evening and continuing through the weekend, the festival's musical celebration includes gospel concerts as well as songs and chants that reflect the unique beat of the Bahamas. Cooking competitions are a popular activity during the festival, with George Town locals offering native foods for visitors to try. Other food events include onion peeling and coconut barking as well as a contest for cracking open conches! Some visitors, of course, prefer the eating competitions such as the contest to see who can consume the most conch fritters in a given amount of time.
Arts and crafts are another draw to this destination, with authentic carvings of wood and conch shell for sale at stalls set up in Regatta Park. One-of-a-kind handmade jewellery items make a lasting keepsake that will remind tourists of the festival for years to come. Children's activities at the festival include sing-a-longs, poetry readings, story time, and an exhibition of Bahamian sloops.
The National Family Island Regatta is usually scheduled around the same time so visitors also have a wealth of other events to keep them busy!