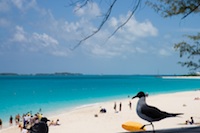 Book cheap flights to Bahamas by selecting an airport destination in Bahamas below. Compare flights to Bahamas from over a hundred airlines worldwide and book online with us today.
The islands of the Bahamas are set in one of supreme natural beauty, and are a place to enjoy a lavish lifestyle, if only for a brief time. Found northeast of Cuba and southeast of Florida, the chain of islands known as the Bahamas rests along the North Atlantic Ocean.
This exquisite part of the world has been an ideal holiday spot for many years. It is filled with endless water sport choices that include parasailing, snorkelling, and diving. It is also dotted with top-notch golf courses, nature reserves, beautiful beaches, and caves for the adventurous traveller to explore. The cultural feel is a breezy mixture of African-American influences of island rhythms and Bahamian tempo.
Although natural resources are its major industry, the Bahamas enjoy a healthy and vibrant tourist economy. Getting to the island is easy enough with the main international airport in the capital city of Nassau. There are a total of six major airports to get tourists where they need to be.
Highlights of sightseeing in the country include the Andros, the third longest barrier reef in the world, and spending a day at Harbour Island enjoying its pink sand. Lagoon Island is a nature lover's delight featuring an abundance of wild sea lions and playful dolphins. For a step back in time, check out Columbus' 'New World' landing near the town of Cockburn, or grab your scuba gear and head over to San Salvador for a day of prime scuba diving.