San Salvador Cheapest Fares
To search and book flights to San Salvador in 2022 and 2023, please enter your requirements and click the search button above.
San Salvador, El Salvador, going through a renaissance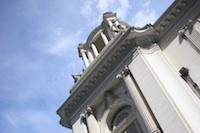 Located right at the foot of Volcan San Salvador, the El Salvador city, founded in 1545, is one of the most visited places in South America.
Its illustrious history makes San Salvador the perfect place for those who want to see an old Latin American city. Although the place has been built and rebuilt over the centuries, the El Salvadoran capital is going through a rebirth.
The atmosphere is a bit different now compared to how things were in past decades. While the place is almost as idyllic as it was in the past, with parks and museums sprinkled around, the El Salvadoran city is now a thriving hub both as a Latin American melting pot and El Salvador's commercial centre.
Although modern, much like in other Latin American cities, the bohemian scene in El Salvador's capital is very much alive, especially in the art district. There are also plenty of restaurants and bars in the art district where holidaymakers can sample the local cuisine.
Flights to the city during the dry season are often fully booked but, even if the dry season is the best time to visit the South American hub, it is still a good idea to visit the area during quieter, off-peak season.
Apart from the city being a thriving commercial centre, it also features 200 miles of coves, bays and beaches – a real paradise for those who love the sea and the sand.