Cheap Flights to Dresden (DRS) from UK Airports
Book flights to Dresden
Dresden Cheapest Fares
To search and book flights to Dresden in 2022 and 2023, please enter your requirements and click the search button above.
Dresden Music Festival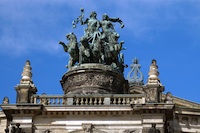 Every May, Dresden, Germany, is the place to be for some of the best and most varied classical music performances in Europe. The Dresden Music Festival is enjoyed by over one hundred thousand connoisseurs of classical music, who flock to Dresden each year to watch distinguished international soloists, classical ensembles, as well as the finest orchestras in Germany. The Dresden Music Festival also features a wide variety of styles of music, from operas, to chamber music and orchestral works. The Dresden Music Festival is not just a treat for the ears, but a treat for the eyes as well; a night at the ballet often proves to be an unforgettable experience. Those with eclectic tastes will be pleased to note that jazz and world music also feature prominently in the festival. Performances by a wide range of new talent are also a highlight of the festival. Dresden is well known for its love of classical music and its facilities are superb, ranking among the best concert halls in Europe. International visits are welcome at the festival, and visitors will be impressed and delighted by Germany's love of classical music.
If you are looking to make Dresden your destination, consider attending the Dresden Music Festival. which promises to be one of the best of its kind, with performances from world class artists. Dresden is easily reached due to the many international flights that arrive daily at the Dresden airport.