Aalborg Cheapest Fares
To search and book flights to Aalborg in 2022 and 2023, please enter your requirements and click the search button above.
Aalborg Carnival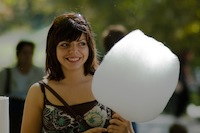 Each May, the city of Aalborg in Denmark turns into one of the largest parade routes in the world. About 25,000 people participate in the Aalborg carnival parade every year, with another 100,000 or more joining in along the route.
You may have seen parades before, but never anything like Aalborg's carnival parade. The parade coincides with an annual Battle of Carnival Bands. The winning groups get to parade through the streets of Aalborg. When the bands selected reach Kildeparken, they must perform before a panel of judges, and many eager spectators as well. There is an additional grand finale where all the top groups from the earlier rounds of the contest play. This goes on after the massive Grand Parade is through.
The parade and carnival are experiences like no other. There is even a special version of the parade set on a different day and aimed exclusively at children. Participants in this parade dress up and march along with thousands of others. Everyone is encouraged to take part in and enjoy the carnival atmosphere.
It is hard to say just what one may encounter at the Aalborg carnival. The entertainment on tap changes from year to year and is varied based on that year's carnival theme. Some themes have pertained more to adults, hence the offshoot parade aimed at entertainment appropriate for children.