Just the Flight's Guide to Copenhagen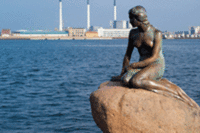 Copenhagen is the capital of Denmark and has a population of over one million people. It is the most visited city in Northern Europe, with flights to Copenhagen continuously booked throughout the year. Continually receiving high rankings as one of the best cities in the world in which to live: Copenhagen is well designed and environmentally friendly – no problems with smog here. Its location on the Oresund Strait, a short distance from Sweden, has made it a regional hub and it is a preferred location for company headquarters in the region. A centre of culture, business, media and science, Copenhagen is often chosen to host conventions and exhibitions for various industries.
The city can be enjoyed at any time of the year but the most popular time is in the spring or summer months since daylight hours are much shorter in winter and autumn. In summer the temperatures are around 20 degrees Celsius and in winter can drop to minus 12 degrees Celsius. This will not bother experienced travellers who wrap up well. As Copenhagen is around 600 miles from the UK, it is possible to obtain flights to Copenhagen and arrive in Kastrup Airport in around two hours, and it takes less than 15 minutes to travel by train to downtown Copenhagen from the airport. Many budget carriers offer cheap flights to Copenhagen so there is really no excuse for not visiting this wonderful northern capital.
Copenhagen has a rich history although its exact origins are uncertain. Some believe that Copenhagen has existed since the Late Viking Age, while it is commonly believed that its humble beginnings stem from the 11th century. From the 12th century onwards its harbour ensured a steady growth, becoming ever more important as a centre of commerce as the centuries passed.
Travelling from Copenhagen is easy with many options available; train connections within Denmark and also within Sweden are excellent with many frequent connections, bus services are available but are only slightly cheaper than the train and if the mood takes you, you can also avail of a ferry service to Oslo. Within Copenhagen itself, buses, trains, metro are all available and are organised in zones, which can take some getting used to. Canal cruises are available but the easiest method of getting around is probably by bicycle, with Copenhagen being one of the most bicycle friendly cities in the world. Free city bikes are available using a shopping trolley payment method – once you return a bike you can get your money back and there are also many bike rental shops offering more comfortable bikes.
Museums are plentiful and typically admission is free to all of them on Wednesdays. Whether your interest lies in art, culture, local history or current technology there is something for everyone. Visit the Danish National gallery to view works by Rembrandt, Picasso and Matisse among others. The Ny Carlsberg Glypotek also has a large collection of classical masterpieces and has a winter garden to relax in between excursions.
For educational purposes why not take the children to the Experimentarium (just north of Copenhagen), an interactive science museum, or to the Copenhagen zoo, one of the oldest in Europe. Botanical gardens, the Tycho Brahe Planetarium and the Geological Museum (includes dinosaur fossils) also offer other distractions during your visit. Two of the oldest amusement parks in the world are located in Copenhagen with some of the oldest functional roller coasters also. Swimming is possible even in the harbour and there are several beaches, swimming pools and roman baths in the area.
Those interested in architecture can find examples from all periods of Copenhagen's history, from classical to modern architecture there are many world renowned examples including the observation platform of The Round Tower (Rundetarn), the City Hall, and of course the Amalienborg Royal Palace.
Annual events include Copenhagen Fashion Week, The Copenhagen Film Festival, CPH Distortion (a week long event) and the Copenhagen Jazz Festival. All these events draw crowds from all over the world and are also well attended by locals.
Restaurants, shopping areas, flea markets, and a vibrant nightlife that lasts until 5am are just a few additional reasons for visiting Copenhagen. Accommodation is plentiful and ranges from the opulent to the basic, with campsite and hostels also available for those on a budget. Travel to other areas of Denmark and Sweden is convenient if using Copenhagen as a base. If you wish to host a convention, have a board meeting or just relax on a weekend break, there are few places better than Copenhagen.