Karup Cheapest Fares
To search and book flights to Karup in 2020 and 2021, please enter your requirements and click the search button above.
The Magic of Touring Jutland at Christmas Time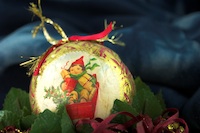 Christmas is surely the most charming time to visit Jutland in Denmark, as many tourists are beginning to discover. This wild and rugged area offers exceptional scenery, a rich Viking history and many beautiful towns and cities. Many seasonal celebrations and events take place across the region, and it can make the perfect location for a winter short break or holiday.
A large number of towns offer festive Christmas markets in the run up to the holiday, which makes for great places to enjoy a drink as you soak up the festive atmosphere and do some Christmas shopping. A wide variety of parades also take place across the region, and tourists will be able to experience Danish traditions and ways of celebrating the holiday.
With regular flights to the capital city of Copenhagen and a central location in the province, a great way to start exploring Jutland is to fly in to Karup airport. The neighbouring towns of Viborg and Herning also have a great deal to offer visitors in terms of traditional charm, tourist attractions and Christmas celebrations. It is also easy to reach larger cities such as Aarhus and Aalborg should you wish to.
Many people find that Christmas time is the best season to visit Denmark, as the snow covered landscapes are especially beautiful and a wide range of magical celebrations take place all over the country. Starting a tour at Karup is a great way to discover new sights that are off the beaten track..